Senior Placement San Diego County
Meet Our San Diego County Senior Living Consultants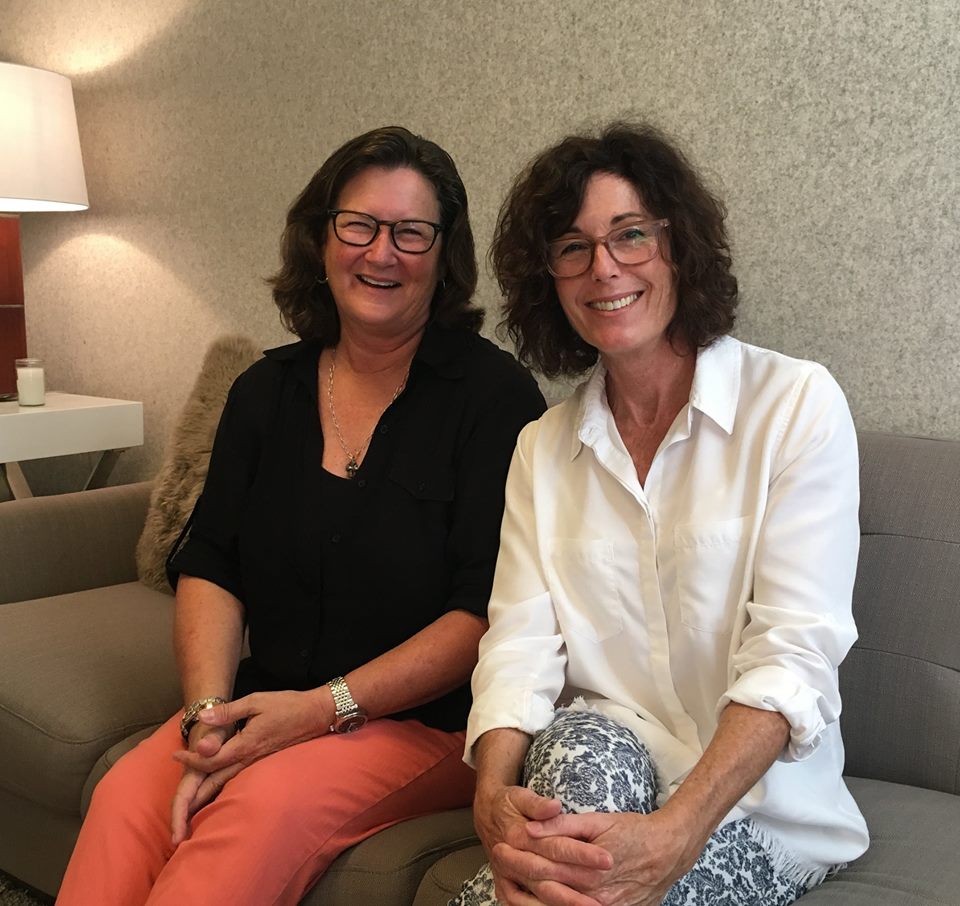 Meet Mary Golden & Monica Flynn
Starting their own A Right Place for Senior's placement agency seemed the perfect business partnership for Mary and Monica, blending their diverse talents, personal experiences, and passion for helping seniors and families.
Their goal is to create a thoughtful, professional and empathetic experience for families to make the best placement choice possible for their loved one.
"These guys were absolutely phenomenal, incredible… They really listen to what's important to you and try to find that match." – Sue
Mary Golden
Mary holds a Master's degree in Healthcare Administration and a Bachelor's degree in nutritional sciences. Her unique blend of executive experience includes 15 years as the Co-Founder and Executive Director of The Center for Health & Wellbeing, San Diego's premier integrative medical practice, and 16 years of non-profit executive leadership with the YMCA's of San Diego and Long Beach Counties. Her most recent experience as a program manager with LightBridge Hospice and Palliative Care and her personal experience helping care for both her parents through illness and their eventual deaths opened her eyes to the needs that families face when independence wanes with aging, chronic illness or a sudden shift in health status. A Right Place for Seniors became the perfect business for Mary, allowing her to use her skills and experience helping seniors transition their living arrangements with grace and dignity.
Monica Flynn
Monica worked for many years in the business world, primarily as a corporate executive in the security industry. Like many professionals, she encountered the later in life balancing act of managing her career while caring for her aging parents. After Monica's father died she and her siblings were faced with the difficult task of caring remotely for their mother Marion, who suffers from dementia. The resulting years were fraught with challenges and adventures that Monica chose to share in a blog and then turned those writings into a book titled, Moments with Marion, A Witness to Dementia. As a result of her experiences through this process, Monica decided to leave the corporate world and develop A Right Place for Seniors to assist seniors and their loved ones on their journey into the next phase of their lives.
Connect with Us on Social Media
Facebook
Twitter
"The service and care I'm getting is excellent."

"Monica helped me out greatly. I was trying to care for my dad who was on-and-off sick. When she found the place, it worked out. So far the service and care that I'm getting is excellent. Monica's help just took a lot of stress off my plate in general.
I really want her to know how grateful I was for her assistance. I have referred other people to her going through the same thing that I was. People in that situation can use the help, especially if they're working full time. It's very stressful.
It was a great help for me. Any issues I ever come across? They take care of it."
– Peaches
"I was afraid of it."

"I had been looking for a few years but I was afraid of it. My mom got put in the hospital, and that's how I met Mary and Monica. They explained how the how system worked so I better understood everything, and what I needed to better take care of my mom.
Monica's help was the only thing that made it work. It's a tough decision because it's expensive, but they understood what I could do and made it work financially. They know everybody and they know who to talk to.
I would absolutely recommend their services. It was simple and so easy. They took care of it, and knew what I needed."
– Tim

"Next time you come see me, bring some lipstick!"

"Monica was great. She found us a couple of places and we went to them. We found one and we loved it. It's a very good ratio there. The lady that owns the place is wonderful. When we went to go see our friend, she had her hair all done and she was wearing some jewelry.
She said "Next time you come see me, bring some lipstick!" It's very attentive and she seems happy. It's been really nice. We're really happy with things there."
– Wanda Reynolds
"I have referred three people to Monica that are in the same boat I was."
"I have been very happy with the decision we made in placing my Mother at her facility. Monica Flynn was great and I want to express my sincere gratitude and appreciation for all of her hard work that she put in – from driving all over San Diego, to knowing what questions to ask when touring the facilities, to helping me find the right fit for my 83 year old mother.
She understood what our budget was and stayed within what we could afford. Making the decision to move my Mom has been one of the hardest things to deal with and there are so many factors to consider and so many choices. Monica zoomed into what my Mother's needs are and she target places that offer the level of care she requires.
I feel like my life has improved and my stress level has been greatly reduced now that my Mom is moved into her facility and settled in. It is close to my house and she loves it! …

… I have referred three people to Monica that are in the same boat I was in a couple of months ago. She is professional, kind and pays great attention to detail.
I will continue to spread the word of the service that your company offers – it is important. When something happens like when my Mom broke her hip and could not go home from the hospital because it was not safe for her to live on her own anymore – you feel very alone and guilty for what needs to be the next move. It simply comes down to "safety" – that one word has helped me with all of my eldercare decisions.
Thank you Monica Flynn for the placement and finding my Mom her new home. She loves her neighbors, her room, the food, and most of all she loves the staff!"
– Susan

"She is definitely in the right place!"

"I will never forget how Mary and Monica helped an elderly, dear friend of mine, who needed to move from an independent living situation.
Their expertise was evident right from the get-go, plus compassion and understanding towards my friend.
With Mary and Monica at the helm, my anxiety disappeared. My friend couldn't be happier. She is definitely in the RIGHT PLACE! Leave helping your loved ones search for a new home to the experts!"
– Michelle
"Complex situation with my mother-in-law"

"My husband and I have been working with Monica for several months to help us with a very complicated and complex situation with my mother-in-law to find her the right home, and Monica (and Mary) have been a life saver to our search. I honestly don't know what I would have done without the help of this amazing organization!
Monica has been incredibly kind, diligent, resourceful, honest, and just overall amazing. Monica has always been available when we need her help and has been committed to helping us find the right place for my mother-in-law. I would highly recommend this organization to anyone looking for help finding a place for a senior who needs a new place to call home."
– Aly and Joey
"Grace when dealing with sensitive topics"

"My firm recommends Monica and Mary to many clients who are entering the stage of life where they can no longer care for themselves.
I am confident in their trustworthiness and greatly value the research they conduct on assisted living facilities.
They convey poise and grace when dealing with these sensitive topics and effectively navigate family dynamics."
– Paul B
"Great Compassion"

"Mary and Monica do great work. When an individual must find the right care for their loved one, the task can be overwhelming. There are many options available for senior care, and the search can be extremely difficult to navigate on your own.
The ladies of A Right Place for Seniors make that process manageable, and do so with great compassion. Working with them is a pleasure and I am happy to recommend their services."
– Mary L Stockton, CFP®, CLU®, CLTC, ChFC®, RICP®, Financial Advisor
"Approach it from the business side"

"Monica was very helpful and pleasant. It was businesslike, which helps take some of the emotion out of it. It's very hard to place somebody who doesn't want to leave home. In the beginning, it's very helpful to be able to approach it from the business side.
I like that there's a little more oversight by a lot of different people where he is. We're really happy with it. We like the staff. They're extremely friendly and helpful. We think Monica did a great job. She was very helpful and very prompt. She made her part simple."
– Marla
Anne explains the process.

"It was very easy. They asked me a lot of questions. They took me to see three or four different options. The last one we saw was the best. It happened to be that I was looking of more of a small home, a board and care, for my mom, versus something big. They were great. I recommended them to a friend who is going through the same process.
They were thorough and very fast. They were on it – speedy at getting the information out of me that they needed, so they could find something for me quickly. It actually moved faster than I would have own my own. They expedited the process.
They were efficient, friendly, and businesslike. At the same time I probably had Monica on the phone for 30 minutes just picking her brain about how to navigate the elder care regulations. It can be very complicated and frustrating. Monica talked me through a bunch of regulatory stuff that I would have had to research on my own. It is some massive stuff to navigate."
– Anne
"They moved mountains in less than 24 hours."

"It was the second time I had to move my mother. I could tell something was wrong and I got on a plane and flew to California. I called Mary and Monica in the morning. Within a couple of hours they had arranged for the administrator Nicole to evaluate my mother for Nicole's place, Feel At Home. Nicole was wonderful.
I have to say it must have been like 7 or 8 o'clock in the morning, and by 9:30 Nicole and Mary were at the ready with my mother to interview her. My mother was moved the next day. I didn't even have a physician yet for my mother. We just figured we would figured it all out.
They all made it happen. The collaboration between Mary and Monica and the administrator where they placed her – you could see the collaboration and the care that they had for my mother. They moved mountains in less than 24 hours."
– Sue (Read the full story of Sue's unique experience with Mary and Monica on our blog.)
"If ever you need us, give us a call."
"When I first I was given their number, I called and I got to talk to Mary and Monica at the same time. It started off very positive. When you're at a time like that, you're just trying to reach and find as many people to guide you in the right direction as you can.
From the get-go it was off to a great start. They made a suggestion and my family decided they wanted to do something different. That ended up not working out, so I contacted A Right Place For Seniors again. I met with Monica and Mary at their office and we sat down in a comfortable setting and just talked about what I was looking for. They shared their knowledge and their suggestions. We came up with two places to go look at. …
The first place we went to was really what I was looking for. From there on out it was basically smooth sailing.
… If I had any questions, they have both always been there to help and give a wealth of knowledge.
I don't know what I would have done without them. I would've been lost and swimming upstream. They really had the right path for me to go down. Pretty simple experience. They've always been there, always called back. It's always "if ever you need us, give us a call."
The passion is there and you can tell. You don't find that often. I would recommend them anyone. They're very adaptive and they see through what somebody is looking for once they sit down and talk. It's pretty real, they bounce things off of each other. That's how it needs to be, compared to the generic process of 'close your eyes and pick one.' They're fabulous."
– Kelly